Screen Shot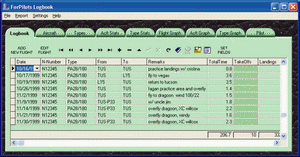 Click the
screen shot
above to view a full size version
ForPilots Logbook is a computerized logbook program designed to let you make an electronic version of your aviation logbook. The advantages of an electronic logbook to the average pilot are numerous: a computerized logbook is easy to maintain and update, features advanced statists, charting, graphs, and helpful wizards. You will always know what your flight time is without having to dig out a calculator and add up all those columns by hand. Print out a hardcopy whenever you need to.
ForPilots Logbook is designed to be very intuitive, with an interface that mimicks a traditional paper logbook. The logbook screen has the same columns as your paper logbook, and you can type directly into the columns. There are also a wealth of useful wizards that can guide you through the process of adding new flights, aircraft and makes and models to the logbook.
If you are looking for more information, then we recommend having a look at the ForPilots Logbook User Manual as it contains many illustrations of the logbook and the various features in use. ForPilots logbook can be downloaded and evaluated for free, so we encourage you to download it, try it out, play with the features, ask questions if you need to, and then only purchase if it suits your needs.
Fast Facts and Features
Looks like your familiar paper logbook
Built in currency computer to compute IFR and night flight currency
Wizards make it easy to add new flights and new aircraft
Comprehensive charts, graphs, and statistics
Built in backup and restore features
Add custom columns to suite special-purpose needs.
ForPilots Logbook is designed to be used by a wide range of pilots, from the beginning student pilot to the commercial ATP. Many of the features have been designed with the input of commercial pilots, and ForPilots logbook has been designed to fit the needs of even the most demanding pilots.
The author of ForPilots Logbook, Scott Baker, is a licensed instrument pilot and designed the logbook software to fit his own needs for a robust, reliable, and easy to use electronic aviation logbook. The result is an aviation logbook that is designed by a pilot, for pilots.
We often receive questions from users regarding whether they need to keep a paper logbook in addition to the electronic version. The author of ForPilots logbook, Scott Baker, keeps both a paper and an electronic version. The paper version makes an excellent backup, is good for showing off to CFIs and employers, and there is a nostalgic value in seeing your paper logbook filled out in actual ink. The electronic version has the advantages of having all of the statistical features, automatic calculation of columns and currency, plenty of room for entering notes and creating custom columns, etc. Of course, the ultimate choice is up to you, and we have had some users that do away with their paper logbooks entirely.
Recent New Features: [see users manual revision history for full upgrade info]
Version 2.1 fixes a bug with custom install directories and adds a "Quit" menu item
New installation program
Export to Excel and HTML formats
Backup and Restore
Split day/night flights
Flight Age, Yearly, and Monthly Statistics
User-interface improvments to new flight wizard
Sort by Date, Total-Time, N-Number, and more
Support HH:MM in addition ot HH.Tenths time format
Import/Export CSV Functions
Expanded pilot-info database to hold certificates, ratings, endorsements, etc
Other Useful Information
The installer should automatically install ForPilots logbook on your computer. We used to also distribute the program in a "ZIP" file, but nearly everyone used the self-executing installer instead, so the zip file has been dropped.
Many users are considering upgrading to Windows Vista. We're committed to ensuring that ForPilots Logbook works correctly under Vista, just as it does under XP. A beta version is available that addresses some minor Vista-related issues. You can find the beta, as well as notes on Windows Vista Compatibility by clicking here.
Read more about ForPilots Logbook, and the advantages of using an electronic logbook.
About the Author:
Dr. Scott M. Baker is the owner and operator of SB-Software, a publisher of computer software including Internet tools, Aviation software, and other special purpose programs. Scott has been involved with computer software since 1986 and released his first commercial program at age 16. He holds Bachelors, Masters, and a Ph.D. in Computer Science, but what he really enjoys is flying his Piper Cherokee. Scott is a licensed instrument pilot, and the development of ForPilots Logbook grew out of his own desire to have a solid log book tool. You may email Scott Baker at smbaker@forpilots.com. Feature requests by end-users are welcome, and much of the functionality in ForPilots logbook is a result of excellent suggestions by users of the software.